Poezia badak ida hanesan reflesaun ida ba tempu Páskoa nian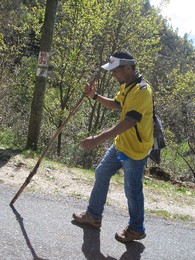 (Língua Tétum)
Ha'u la'o iha dalan ida-ne'e
Dalaruma ha'u sidi no dalaruma ha'u monu
Dalaruma ha'u susar no dalaruma ha'u tanis
No biar nune'e
Iha moris ida-ne'e, ha'u kontinua la'o nafatin
Ha'u buka atu halakan nafatin roman fiar nian
Iha ha'u-nia laran lori la'o nafatin
Atu biar moris ne'e nakonu ho terus oioin
Ha'u sei moris haksolok tanba Na'i maka ha'u-nia kbiit ksolok nian
Iha Na'i, terus nakfilak nu'udar bee-matan ksolok nian
Tanba Kruz sai ona nu'udar sinál manan nian. 
(Língua Portuguesa)
Estou a caminhar neste caminho
E as vezes eu me atropelei e as vezes eu cai
As vezes eu me encontrei no sofrimento e as vezes eu chorei
Mesmo assim
Nesta vida, eu vou continuar andando
E tento procurar manter acesa a luz da minha fé
Para continuar andar sempre pela frente
Mesmo a vida tem muitas dificuldades
Eu vou viver na felicidade no mesmo
Porque o Senhor é a força da minha verdadeira felicidade
No Senhor, o sofrimento transforma-se na fonte da alegria
É porque a Cruz já é o sinal da Vitória.
(Língua Idate)
Au usole he lala-inak isa-enenia
Wainhali au usahidi i wainhali au umanahu
Wainhali au uterus i wainhali au usero
Biar no'oní
He mori isa-enenia, au ukontinua sole nahati
Au uaneko amori nahati fiar ni ilak
He ulalan odi sole nahati
Mori nia nabenu karik nora terus oioin
Au hi mori kontenti nahati tante Na'i na'a beran auk loloos
He Na'i, terus nahilak aon ti weer-matan kontenti nik
Tante Kruz nasai oler naha nu'udar sinál manan nik.
(Língua Indonésia)
Aku berjalan di jalan ini
Kandang kakiku tersangkut dan kadang aku jatuh
Kadang aku susah dan kadang aku menangis
Meskipun demikian
Dalam hidup ini, aku tetap melanjutkan perjalanan ini
Aku mencari untuk tetap menyalakan didalam hatiku
Sebening titik terang imanku
Agar aku bisa tetap berjalan
Meskipun hidup penuh dengan liku-liku
Aku masih bisa tetap bahagia
Karena Tuhan adalah kekuatan bahagiaku yang sejati
Di dalam Tuhan, penderitaan berubah menjadi sumber kebahagian
Karena Salib itu sudah menjadi lambang kemenangan.
(English)
I am walking in this way
Sometimes I  was knocked and sometimes I fell
Sometimes I faced sufferings and sometimes I cried
Even thought I keep walking in this life
I am trying to keep alive the light of my faith
In my heart to continue walk again
So even life is sometimes full of sufferings
I live my life in happiness  
Because Lord is my power of happiness
In Lord, the sufferings are turned to fountain of true happiness
Just because the Cross has already been the sign of victory.